What is the secret to integrating into our Group and succeeding, while having fun? Knowing how to adapt to an environment based on entrepreneurship and innovation and being a true leader. With us, it is human qualities that really count more than a qualification or academic excellence. Entrepreneurial spirit, Ambition, Perseverance, Innovation and Performance: the key ingredients in the Groupe Roullier recipe.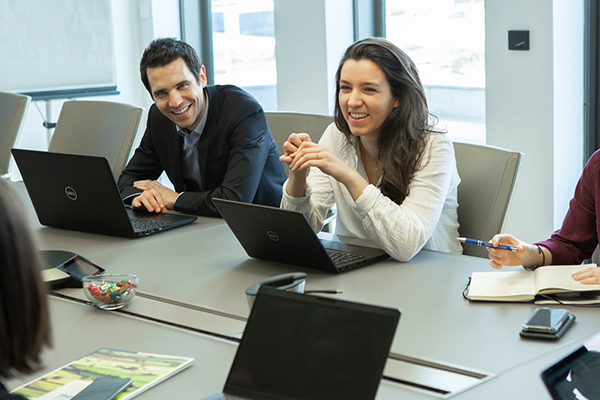 Entrepreneurial spirit, driving our actions
Each subsidiary manager is a true entrepreneur. Every person in the Group likes to develop a sense of performance in order to achieve the objectives set. Excelling yourself and often surprising yourself. We like to take on challenges here.
Promising occupations, a sense of innovation
Feeding the World is an inspiring ambition, a challenge we take on with support from a solid and dynamic structure. Innovation? We put it at the heart of our products, our processes and our services, by anticipating our customers' expectations. It is our Group's watchword.
Specific and diverse training programmes
Our business lines are specific. They require methodical learning about our products, our environment and our know-how. Our training courses are tailored to enable everyone to be an effective employee in their own area of expertise, since the Group's development depends on that of our employees. Everything is done to support them in the development of their expertise and interpersonal skills, in order to offer them prospects for vertical or horizontal career development.
Mobility facilitates progress
Building your career within Groupe Roullier means enjoying numerous opportunities for internal mobility in a dynamic and secure environment. Our comprehensive management of the Group's human resources is essential in order to have the skills required for the development of all our activities, now and in the future. That is why internal mobility is embodied in cross-functional, inter-business line, geographical or hierarchical movements. Before searching for external candidates, we draw on our HR tools and research by our managers to identify those looking for career development within our companies. Groupe Roullier contains some fine examples of internal mobility and we have no hesitation in placing our trust in our employees. It is then up to everyone to be proactive in taking charge of their career !